Breathable and Long-lasting
Why Choose European Linen?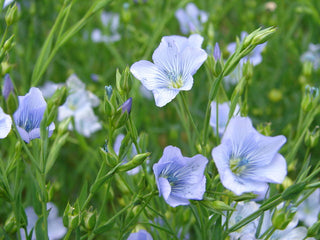 About European Linen
Flax used in our products is grown in France, the natural rain, dew, and sunlight are sufficient to meet its growth needs, which makes the plant ecosystem free from pollution from pesticides and chemical fertilizers.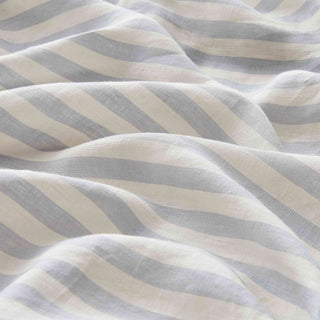 What Does Linen Feel Like?
Linen bedding has a different texture than cotton. It feels crisp, cool, and slightly rough because linen fibers are thicker and less even. This texture is enjoyable to many people and can feel refreshing.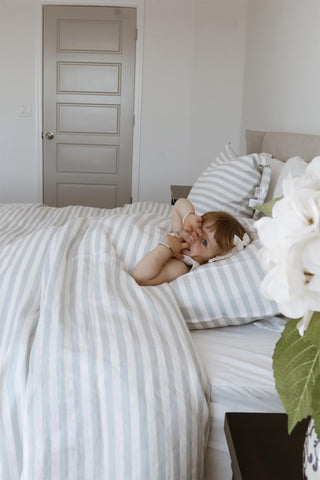 Say Goodbye to Night Sweats!
Linen has excellent moisture-absorbing and quick-drying capabilities. It can effectively wick away moisture from your body, helping to keep you dry and comfortable during sleep.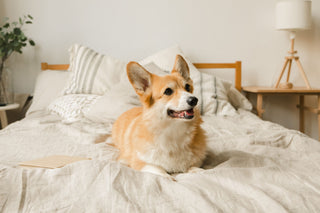 Odor-resistant
Linen is a naturally antimicrobial fabric, which means it inhibits the growth of bacteria that can cause odors. This can help keep your linen bedding fresher for longer compared to other materials.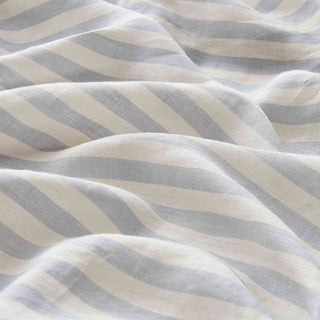 Naturally Breathable
Linen is known for its excellent breathability due to its natural fiber structure. The structure allows for good air flow, allowing heat and moisture to escape, which helps to keep you cool and comfortable during sleep.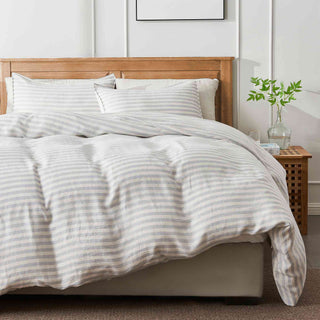 Long-lasting
Linen is a durable and robust fabric that can withstand regular use and washing. It is known for its strength and resilience, making it more resistant to wear and tear compared to some other fabrics. With proper care, linen bedding can maintain its quality and appearance for many years.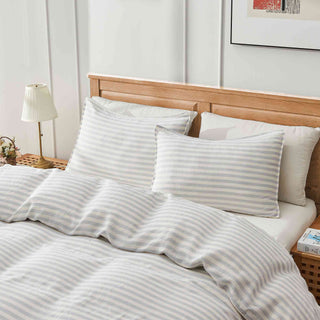 Our Certifications
To ensure that our products meet the highest standards of quality, Puredown adheres to strict regulations and criteria at every stage of the manufacturing process.This linen duvet cover set is certified with STANDARD 100 by OEKO-TEX® and Bluesign.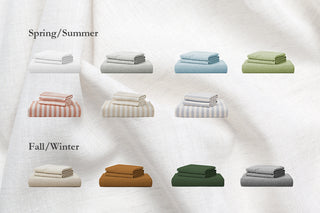 11 Colors Available
Discover our linen duvet cover in 11 colors! Choose from light green, light blue, light gray, coral stripes, beige stripes, light grey stripes, and white for spring and summer vibes. Transition into fall and winter with cream, umber, lunar green, and dark gray options. Elevate your bedroom with our diverse color range, reflecting every season's unique mood. Indulge in luxurious comfort and style with our high-quality linen bedding set.