Natural Down Feather Fill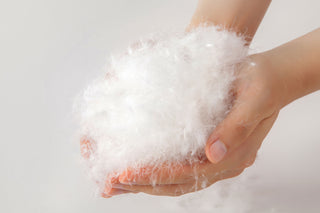 Ethically Sourced Down Feather Fill
The down feather pillows are a blend of 60% down fiber and 40% feather fiber, offering you the perfect balance between comfort and support so that you can indulge in deep sleep.
Down-proof Cotton Cover
With an outer layer made using 100% cotton, and an inner breathable layer consisting of a premium down-proof polyester fabric, these pillows help prevent fill spillage and keep you cozy with a smooth, and relaxing touch of softness.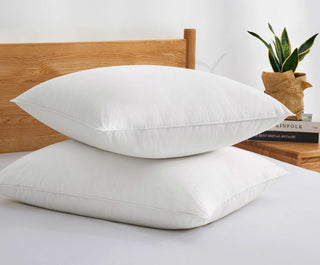 Soft and Comfy, yet Supportive!
Unlike regular down feather pillows, this quill-free natural down feather pillow is treated with an extra step to remove the solid quills, offering you the perfect balance between comfort and support so that you can indulge in deep sleep.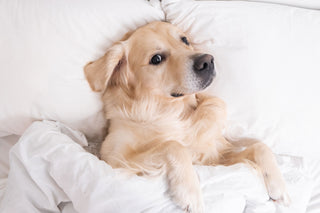 Suitable for Different Sleep Positions
You no longer have to choose between soft and firm. Our ultra-plush pillows offer both comfort and support for every sleeping style. These soft pillows have a medium-firm density, making them ideal for side, back, and combination sleepers.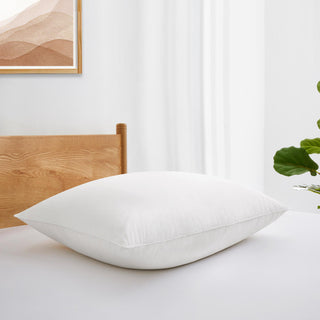 Our Certifications
To ensure that our products meet the highest standards of quality, Puredown adheres to strict regulations and criteria at every stage of the manufacturing process. This down blanket is certified with Responsible Down Standard, STANDARD 100 by OEKO-TEX® and Bluesign.

As a side sleeper, I found these pillows to offer me the right comfort throughout the entire night. I loved them so much I returned to buy more.
It feels more like a feather and down pillow rather than pure down. It is not as light and fluffy as pure down (I've owned at least four in the past 20 years) and it is a little hard under my head. Guess I will keep searching and relegate these as extra pillows.
Great fill amount. My girlfriend who hates my other down feather pillows, because they don't have enough support, loves these! These support the head and have a cloud like feel to them as well. I ordered 6 sets. When you find the pillow you love you share it.
Very very comfortable pillows
Extremely happy with these pillows! We got the medium fill two pack, which was a good price point. They are fantastic and keep our heads up when sleeping on our sides. Yet just flexible enough to sleep on our backs without our necks being crooked. There's plenty of fill, so you don't have to keep fluffing it constantly. Extremely happy!