Natural Down Feather Fill
Why Choose Organic Cotton?
Organic cotton is more than just an ethical choice. When you purchase organic cotton products, you are helping to make the planet a healthier place for everyone.
Healthier for Our Planet
Organic cotton is beneficial to the earth because it is grown without the use of harmful chemicals, genetically modified organisms, and synthetic pesticides and fertilizers. This results in improved soil health, reduced water usage, conservation of biodiversity, and reduced environmental impact.
Healthier for Farmers
Organic cotton farming benefits farmers by reducing their exposure to harmful chemicals, improving their health, providing economic benefits through higher profit margins and access to higher-value markets, promoting environmental sustainability, and contributing
to the social well-being of farmers and their communities.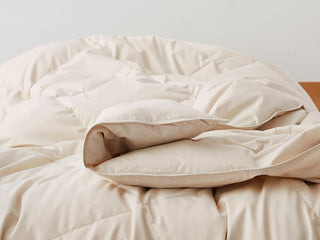 Healthier for Yourself
Organic cotton is free of harmful chemicals, making it gentle on the skin and hypoallergenic. It is also softer, more breathable and more durable than conventional cotton, making it a perfect choice for those who want to improve their sleep health greatly.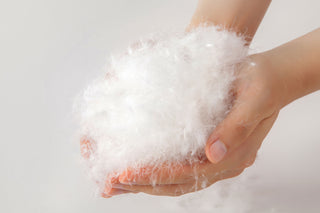 Ethically Sourced Down Feather Fill
Unlike regular down feather comforters, this quill-free natural feather comforter is treated with an extra step to remove the solid quills, offering you the perfect balance between warmth and coziness so that you can indulge in deep sleep with every cuddle.
Medium Weight for Year-round Comfort
Equipped with the perfect weight, this all-season comforter is an ideal choice for cold sleepers or hot sleepers. That's ideal for year-round use so that you can enjoy its feathery softness and optimum level of warmth during summers or winters.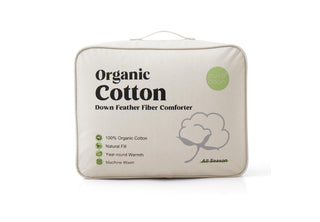 Eco-friendly Canvas Storage Bag
This organic cotton comforter comes with a zippered canvas storage, which is durable and breathable to keep your comforter clean and fresh. This exquisitely designed canvas bag also makes the comforter a great choice for gift-giving.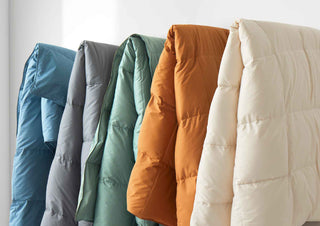 Our Certifications
To ensure that our products meet the highest standards of quality, Puredown adheres to strict regulations and criteria at every stage of the manufacturing process. This organic cotton comforter is certified with Responsible Down Standard, STANDARD 100 by OEKO-TEX® and Bluesign.

Love it!
Great quality, exactly what I wanted.
Love!
Absolutely love it! So comfortable and cozy! Just the right weight for the transitional season at the end of summer - tans plan to use it year round with other blankets as needed. My husband has been hesitant to get down bc he is a hot sleeper and he loves it!
Obsessed
This blanket is absolutely worth the money! Even my husband loves it and he's picky with his blankets because he's always hot. But this blanket is a nice in between. It feels lux like you are in a hotel. Super happy with this purchase. Thank you!
Best comforter ever! 5 star for sure!
My skin is so sensitive to blankets and certain comforters. I thought I would try organic Cotten and in disbelief! So wonderful and ordered another one for other bed! Fabulous!