Natural Down Feather Fill
Why Choose Organic Cotton?
Organic cotton is more than just an ethical choice. When you purchase organic cotton products, you are helping to make the planet a healthier place for everyone.
Healthier for Our Planet
Organic cotton is beneficial to the earth because it is grown without the use of harmful chemicals, genetically modified organisms, and synthetic pesticides and fertilizers. This results in improved soil health, reduced water usage, conservation of biodiversity, and reduced environmental impact.
Healthier for Farmers
Organic cotton farming benefits farmers by reducing their exposure to harmful chemicals, improving their health, providing economic benefits through higher profit margins and access to higher-value markets, promoting environmental sustainability, and contributing
to the social well-being of farmers and their communities.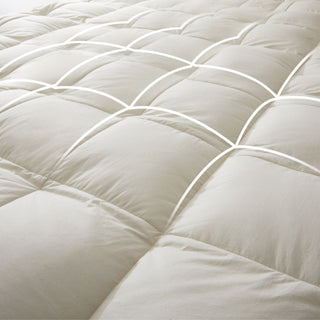 Healthier for Yourself
Organic cotton is free of harmful chemicals, making it gentle on the skin and hypoallergenic. It is also softer, more breathable and more durable than conventional cotton, making it a perfect choice for those who want to improve their sleep health greatly.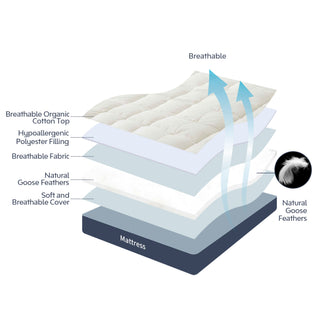 Five-layer Construction
With five layers of extreme comfort and extra softness tucked inside this down matters topper, you can rest assured you'll get the best of both worlds. The unique 3-inch gusset design in the mattress feather toppers ensures exceptional loft, a luxurious comfort level, and an extra layer of softness, making the feather bed mattress topper feel as soft and airy as a cloud.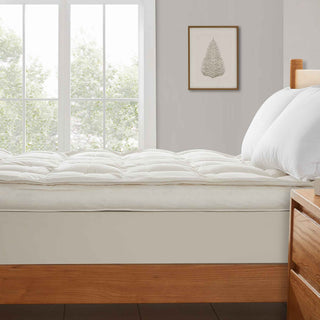 Goose Feather and Down for Ultimate Comfort
The mattress topper is crafted with a perfect blend of 95% goose feather and 5% goose down filling. This combination ensures a reposeful layer of comfort that conforms to your body's contours, providing optimal support for a restorative night's sleep.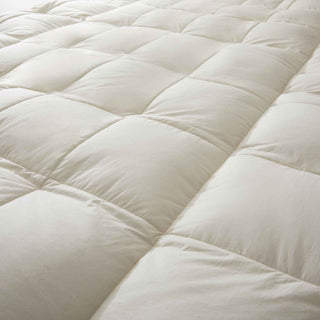 Premium Fabric for Optimal Air Circulation
The feather down mattress toppers feature a 100% organic cotton cover with a 300 thread count, making it soft, breathable, and lightweight. The sheet layered between the polyfill and fluffy feathers in the feather mattress down topper prevents leakage or intermixing of the fill. Pair it with our cooling mattress pad protector in summer!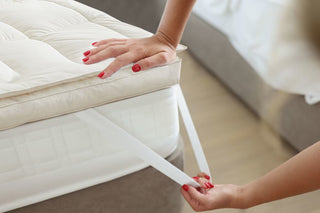 Special Elastic Straps
The corner straps are designed to keep your topper securely in place on the mattress, preventing any unwanted movement as you twist and turn throughout the night. Say goodbye to restless nights and welcome a peaceful sleeping experience.

Eco-friendly Canvas Storage Bag
This organic cotton feather mattress topper comes with a zippered canvas storage, which is durable and breathable to keep your mattress topper clean and fresh.
This exquisitely designed canvas bag also makes the feather mattress topper a great choice for gift-giving.
Beyond comfortable!
This mattress topper is so comfortable, it is like sleeping on a squishy cloud!! So comfy!!
A fine fluff
Quite satisfying/ sleep time is definitely enhanced.
Thanks
I'm so happy
Absolutely love love love ! I got the king Ollie topper & 2 standard duck goose pillows. It's a great quality fabric and packaging was another plus! Loved the super sized canvas bag😘
I had to have it
I had one of these for my old queen sized mattress so when I got rid of that, I didn't hesitate to buy one the right size for my new full mattress. I originally got the old one because I was told I would sleep cooler in the summer. I was very glad to have it after I took a nasty fall, back in February. It cushioned my old bones. I'm assuming this one will do the same. I love it.
Very comfortable topper
My sleep has improved so far. Only drawback is it compressed down quite a bit. However at this point I hope it provides continued comfort for quite some time.