Warmth Levels to Fit any Season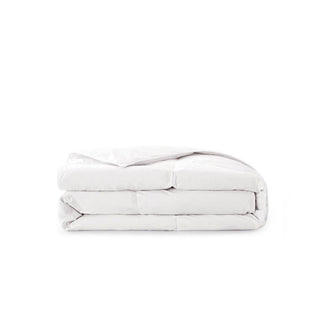 Lightweight
Ideal for
Hot sleepers
Summer months
Fill materials
95% feather fiber and 5% white goose down
Fabric
92% polyester and 8% nylon
Construction
Sewn-through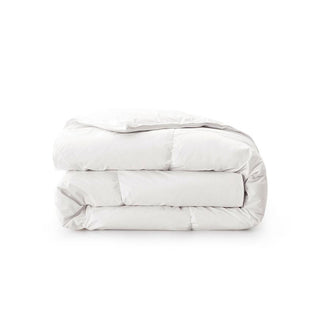 Medium Weight
Ideal for
Most sleepers
Most months
Fill material
95% feather fiber and 5% white goose down
Fabric
92% polyester and 8% nylon
Construction
Sewn-through, gusseted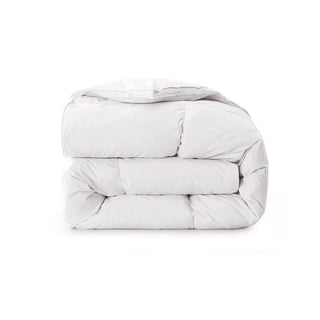 Heavyweight
Ideal for
Cooler sleepers
Cooler months
Fill material
95% feather fiber and 5% white goose down
Fabric
92% polyester and 8% nylon
Construction
Sewn-through, gusseted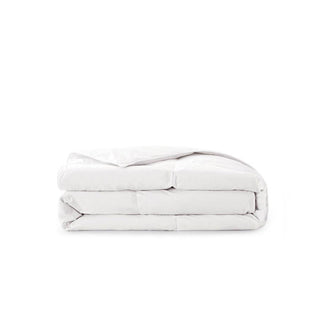 Lightweight
Ideal for
Hot sleepers
Summer months
Fill materials
95% feather fiber and 5% white goose down
Fabric
92% polyester and 8% nylon
Construction
Sewn-through
Medium Weight
Ideal for
Most sleepers
Most months
Fill material
95% feather fiber and 5% white goose down
Fabric
92% polyester and 8% nylon
Construction
Sewn-through, gusseted
Heavyweight
Ideal for
Cooler sleepers
Cooler months
Fill material
95% feather fiber and 5% white goose down
Fabric
92% polyester and 8% nylon
Construction
Sewn-through, gusseted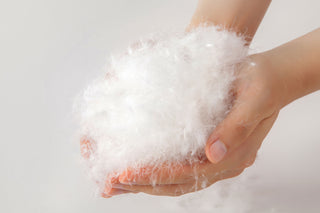 Ethically Sourced Down Feather Fill
This feather blend comforter is composed of 95% feather fiber and 5% white goose down. UltraFeather is further processed to remove solid feather quill, thus imitating down's plushness and consistent warmth.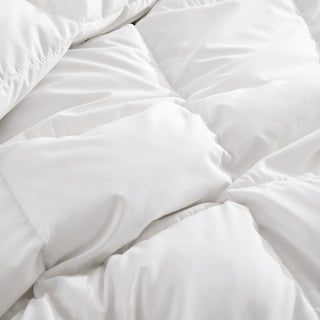 Soft and Wrinkle-resistant Fabric
Made using 92% premium polyester and 8% nylon, the comforter features a wrinkle-resistant fabric that feels soft to the touch, without any rustling noise as you move or settle in bed.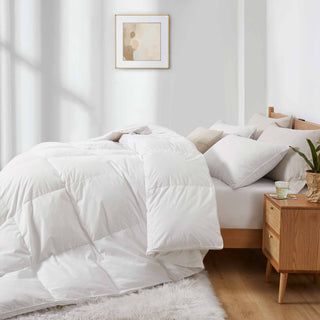 Our Certifications
To ensure that our products meet the highest standards of quality, Puredown adheres to strict regulations and criteria at every stage of the manufacturing process.This down feather comforter is certified with Responsible Down Standard, STANDARD 100 by OEKO-TEX® and Bluesign.

I love it! It's soft and crisp!
I was skeptical…
I was skeptical at first considering the reasonable price. This duvet is my absolute favorite. I have the medium weight, it's not too warm and is great quality! It's like a cloud!
Duvet Insert
This duvet insert was just what I was searching for. It's light weight, not too thick, affordably priced and fits perfectly into my queen duvet cover for the right amount of warmth that I need. I am very pleased with my purchase.
Great weight
It's a great wait for summer to South lives near the ocean and southern Georgia and it's a great comforter for the summer
I absolutely love this blanket. We live in Florida and its hot right now here. I wanted something soft, clean with no chemicals used on it, but also something that wont make us sweat at night . This one is perfect. The feeling is super soft and the lightweightedness makes it a great comforter for hotter climates.