Natural Feather Down Fill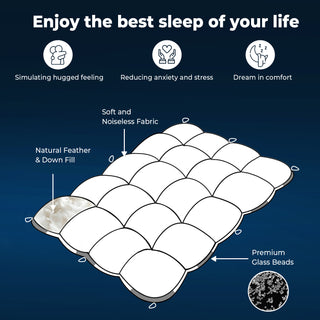 Glass Beads Design for Comfort
We've carefully incorporated glass beads surrounding the comforter as the filler, ensuring a perfectly balanced weight distribution. Emulating the comforting sensation of a warm hug, just like cuddling and swaddling, promoting a profound sense of well-being and and enhance the quality of your sleep.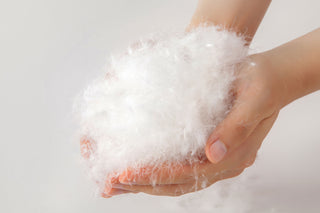 Ethically Sourced Down Feather Fill
This weighted comforter is composed of 95% feather fiber and 5% white goose down. Unlike regular feather comforters, that is further processed to remove solid feather quill, thus imitating down's plushness and consistent warmth.
Ultra Soft and Breathable Fabric
Made using 92% premium polyester and 8% nylon, the comforter features a wrinkle-resistant fabric that feels soft to the touch, without any rustling noise as you move or settle in bed.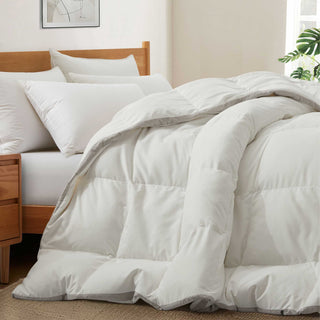 Perfect Year-round Warmth
Equipped with the perfect weight, this all-season comforter is an ideal choice for cold sleepers or hot sleepers. That's ideal for year-round use so that you can enjoy its feathery softness and optimum level of warmth during summers or winters.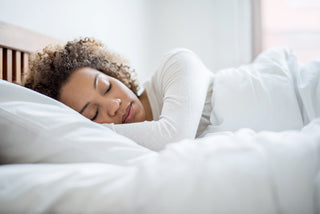 Our Certifications
To ensure that our products meet the highest standards of quality, Puredown adheres to strict regulations and criteria at every stage of the manufacturing process. This down blanket is certified with Responsible Down Standard, STANDARD 100 by OEKO-TEX® and Bluesign.

Like a dream
This comforter is so buttery soft and cozy. The edges are weighted which is great for keeping the edges down, the whole comforter is not weighted. It's perfect for a season.
Best comforter I have ever owned
This comforter is the best thing I have ever owned! It regulates temperature perfectly throughout the night, it is so soft and the weighted edges are something I never knew I needed! I will buy this comforter over and over again!