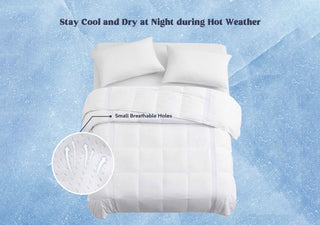 Optimal Cooling Comfort
The Cooling Bundle offers a unique combination of a lightweight down blanket and down feather pillows designed to provide optimal cooling comfort. The blanket's outer fabric cover, made from 85% premium polyester and 15% cotton, enhances durability and softness while maintaining breathability for a cool sleep experience. The blend of 75% white duck down and 25% white duck feather in the blanket's filling ensures an exquisite balance of warmth, loft, and coziness, contributing to a comfortable night's sleep without overheating.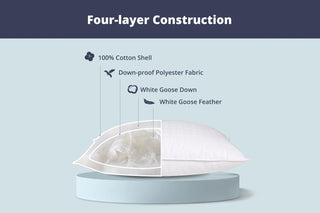 Breathable Pillow Support
The down feather pillows in the Cooling Bundle feature a 100% cotton breathable cover, offering a lightweight and moisture-wicking material for cool and refreshing sleep. With a 300 thread count on the feather down pillow inserts, these pillows provide unmatched durability while limiting down spillage. The dual-chamber design, combining an outer layer blend of 75% white goose down and 25% white goose feathers with an inner layer of 95% white goose feathers and 5% white goose down, ensures a soft, fluffy texture and the perfect level of firmness and support, enhancing overall sleep quality.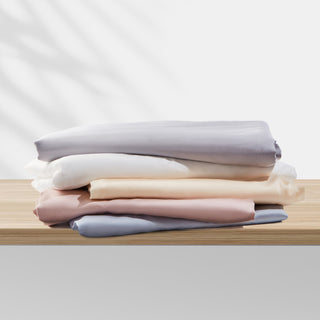 Luxurious Cooling Bedding
The Cooling Bundle's sheet sets, crafted with 100% silky soft TENCEL™ Lyocell natural fiber, offer a luxurious feel against the skin. With a sumptuous 300 thread count, these sheets provide the perfect blend of luxury, comfort, and durability. Experience the ultimate in cooling comfort as you drift off to sleep enveloped in the silky softness of TENCEL™ Lyocell, creating a serene and refreshing atmosphere for a restorative night's rest.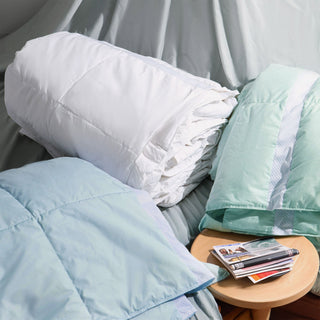 Our Certifications
To ensure that our products meet the highest standards of quality, Puredown adheres to strict regulations and criteria at every stage of the manufacturing process.This down comforter is certified with Responsible Down Standard, STANDARD 100 by OEKO-TEX® and Bluesign.