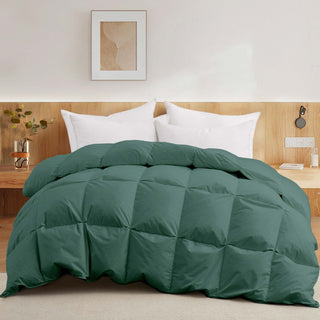 Luxurious Comfort
Indulge in unparalleled comfort with the Essential Bundle, featuring an all-season feather comforter enveloped in a 100% cotton cover. This soft, lightweight, and breathable material, coupled with a 233 thread count, ensures a high-quality construction that minimizes fill leakage, wrapping you in a cloud-like embrace of exquisite softness for a cozy night's sleep.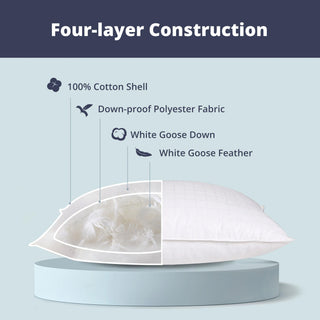 Versatile Pillow Support
Elevate your sleep with down feather pillows that boast a 100% cotton breathable cover, offering a lightweight, moisture-wicking, and natural feel. The dual-chamber design ensures durability by limiting down spillage, with an outer layer blend of 75% white goose down and 25% white goose feathers for a soft, fluffy texture. The inner layer, consisting of 95% white goose feathers and 5% white goose down, provides the perfect level of firmness and support, catering to a variety of sleep preferences.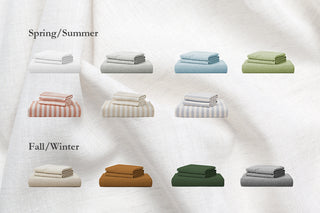 Breezy Bedroom Oasis
Transform your bedroom into a serene retreat with the 100% European linen duvet cover set. Crafted from France-grown flax, this linen offers a soft and airy embrace, creating a breezy oasis for relaxation. Experience the soothing touch of natural fibers as you drift off to a tranquil sleep, surrounded by the calming ambiance of the Essential Bundle's duvet cover.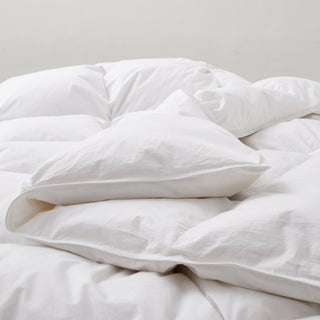 Our Certifications
To ensure that our products meet the highest standards of quality, Puredown adheres to strict regulations and criteria at every stage of the manufacturing process. This down blanket is certified with Responsible Down Standard, STANDARD 100 by OEKO-TEX® and Bluesign.