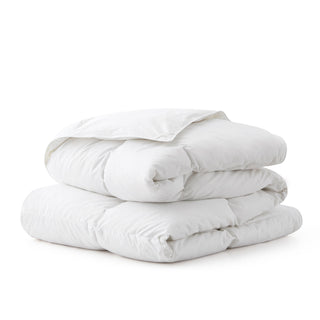 Lightweight
Ideal for
Hot sleepers
Summer months
Fill material
90% white goose feather and 10% white goose down
Fabric
233-thread-count cotton
Construction
Sewn-through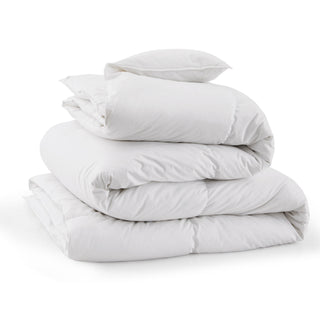 Medium Weight
Ideal for
Most sleepers
Most months
Fill material
90% white goose feather and 10% white goose down
Fabric
233-thread-count cotton
Construction
Sewn-through
Lightweight
Ideal for
Hot sleepers
Summer months
Fill material
95% feather fiber and 5% white goose down
Fabric
92% polyester and 8% nylon
Construction
Sewn-through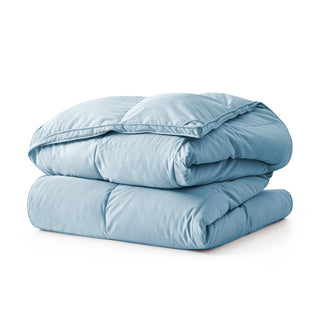 Medium Weight
Ideal for
Most sleepers
Most months
Fill material
95% feather fiber and 5% white goose down
Fabric
92% polyester and 8% nylon
Construction
Sewn-through, gusseted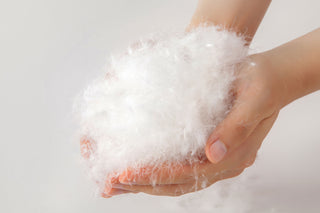 Ethically Sourced Down Feather Fill
Crafted with a blend of natural 90% white goose feather and 10% white goose down fill, this combination of feathers and down creates a balanced and plush feel, indulging softness for a cozy sleep experience.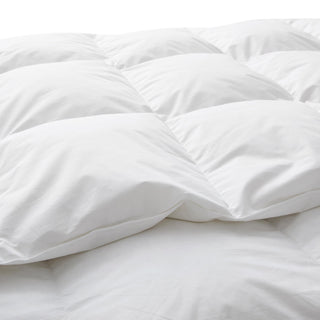 Breathable 100% Cotton Cover
Our white goose feather and down comforter features a high-quality 233-thread-count cotton shell for superior softness and durability. The breathable fabric promotes airflow, while the down-proof feature ensures a comfortable sleep free from feathers or down leaking.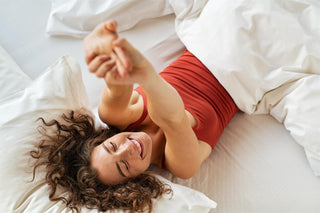 Warmth Levels to Fit Different Seasons
The lightweight option is perfect for hot sleepers, summers, or those who reside in warmer climates. Layer this with an all-season comforter for extra warmth during winter.
The medium weight option is a smart choice for any type of sleeper. Suitable for year-round use, it is a great pick for both a cold climate and a hot climate.
Our Certifications
To ensure that our products meet the highest standards of quality, Puredown adheres to strict regulations and criteria at every stage of the manufacturing process.This down feather comforter is certified with Responsible Down Standard, STANDARD 100 by OEKO-TEX® and Bluesign.