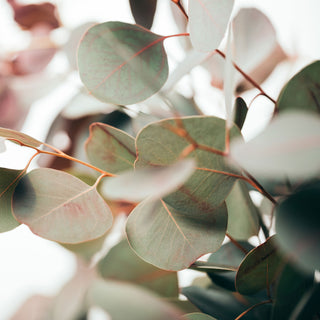 About TENCEL™ Lyocell Fabric
TENCEL™ Lyocell fibers are a sustainable textile material made from wood pulp, like eucalyptus. These fibers are soft, breathable, and moisture-wicking, making them great for bedding. They are also biodegradable, which is good for the environment.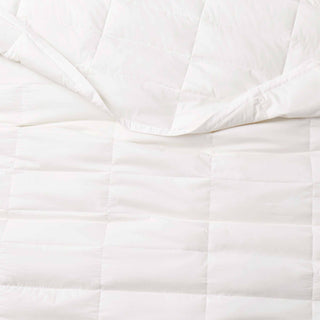 What Does TENCEL™ Fabric Feel Like?
TENCEL™ Lyocell fabric is incredibly soft and smooth, giving it a luxurious feel against the skin. It's breathable, meaning it allows air to circulate and helps keep you cool and dry.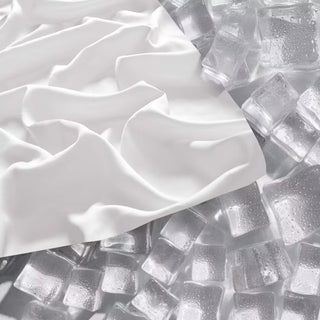 Cool! Say Goodbye to Night Sweats!
TENCEL™ Lyocell fabric is great at keeping you cool and dry during sleep. When you sweat at night, it absorbs the excess moisture and allows air to circulate. This helps regulate your body temperature and promotes a more restful sleep experience.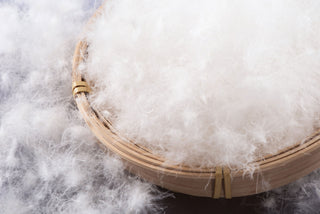 Ethically Sourced Down Fill
This lightweight cooling down blanket is filled with 75% white down and 25% white feathers. This exquisite combination ensures superior loft, exceptional softness, and unparalleled comfort, elevating your sleep experience to new heights of tranquility.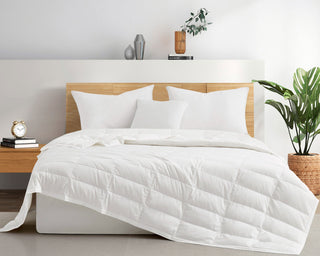 Lightweight and Versatile for Year-round Comfort
This oversized down blanket is ideal for hot sleepers.

Use this cooling down blanket as a lighter cover option during summers for the ultimate cozy retreat.

Use this oversized blanket in conjunction with a lightweight comforter or cozy comforter for a plush layer of warmth in autumn, winters, or any cold season.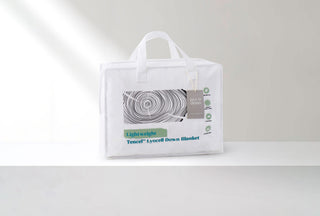 Zippered Storage Bag
This down blanket comes with a zippered storage bag, which is durable and breathable to keep your blanket clean and fresh. This exquisitely designed bag also makes the down blanket a great choice for gift-giving.
7 Colors Available
Elevate your relaxation with our exquisite selection of seven captivating colors, designed to harmonize with your unique style and living space. From soothing neutrals to vibrant hues, our diverse color palette ensures there's a perfect match for every preference.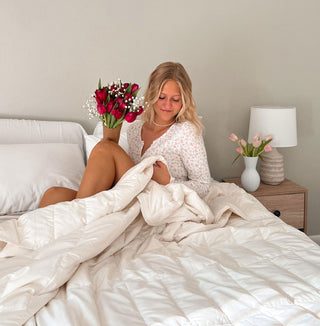 Our Certifications
To ensure that our products meet the highest standards of quality, Puredown adheres to strict regulations and criteria at every stage of the manufacturing process. This organic cotton comforter is certified with Responsible Down Standard, STANDARD 100 by OEKO-TEX® and Bluesign.

Best blanket
This is fantastic. Its extremely thin and light weight and is perfect. Its a light weight downs comforter and is excellent for all Florida weather. Add that to the fact it looks fantastic too. Its made of a good material, not cheap looking at all. Great purchase and well worth the koney
Still looking
I receiver a dark grey I really wanted white. The blanket was very nice but would prefer a an even lighter weight for summer. If something else is available with tensel I would be interrested. Please advise. The grey is too dark and I wish to return this. Thank you. L. Haggerty
Light Weight Cooling Down Blanket
This blanket is perfect for a hot summer in Florida! I ditched my duvet and use the lightweight cooling down blanket as a comforter for my bed, and it is super comfortable and cool. It's just what I wanted!
Best weight blanket!
Perfect weight! Love this blanket! Wish there was a cover to buy to keep it new and freah
Absolutely love it
Light, soft and perfect for summer!