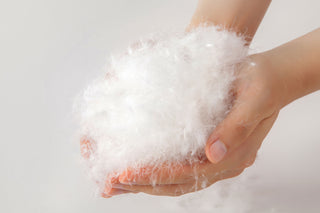 Ethically Sourced Down Feather Fill
The bedding comforter has a lovely combination of 90% goose feathers and 10% goose down, offering you an exceptional loft and indulging softness for a cozy sleep experience.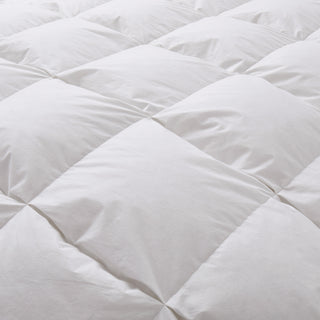 Breathable Cotton Cover
Made using a 100% cotton cover, this fluffy comforter is breathable, natural, and soft to the touch.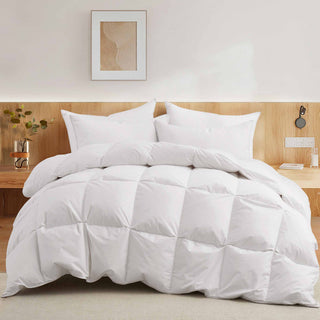 Perfect Year-round Warmth
Equipped with the perfect weight, this all-season comforter is an ideal choice for cold sleepers or hot sleepers. That's ideal for year-round use so that you can enjoy its feathery softness and optimum level of warmth during summers or winters.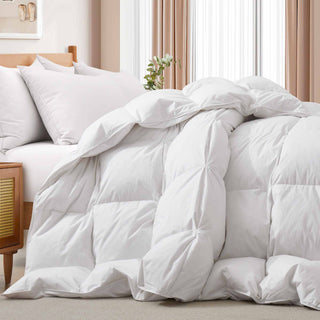 Classic Pinch Pleat Design
The classic pinch pleat style is a go-to choice for modern bedding. Expertly crafted with a pin-tuck look, it adds texture and style of bedding perfection to provide a comfortable sleeping experience.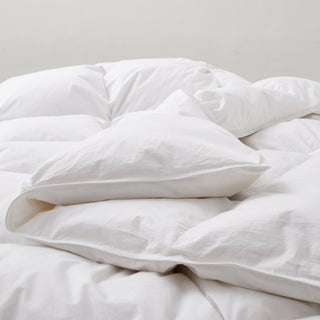 Our Certifications
To ensure that our products meet the highest standards of quality, Puredown adheres to strict regulations and criteria at every stage of the manufacturing process. This down blanket is certified with Responsible Down Standard, STANDARD 100 by OEKO-TEX® and Bluesign.

Not all season!
This comforter is very warm, and not as fluffy as the picture at all!! It isn't much larger than your king size bed, so if you think you're going to have extra material… You're not!
All Seasons feather & down comforter - high quality
My all Seasons Feather & Down comforter is well made - cotton cloth cover, soft, well sewn and in a nice blue. Substantial heft. It might be a bit warm for summer - but perfect for the other three seasons - with small loops in case I choose to sew buttons into the duvet - which is something that would help keep all my comforters from shifting inside the duvets.
Great produce
Cotton down filled warm and comfortable
Great!
I am very pleased with my purchase, the only negative I would say is that I never received a confirmation of my order or tracking information until the item arrived, it was a quick shipment and love the comforter!
Great down comforter! Not all seasons!
Although I love this comforter I would not recommend it for all seasons especially for spring/summer and even early fall this is wayyyy too warm in my opinion! Will be great for later fall and winter though.