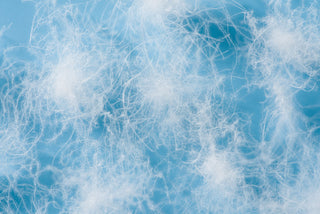 Ethically Sourced Down Feather Fill
Crafted from the finest 75% white duck down and 25% white duck feather, it provides a comfortable balance of warmth, loft, and coziness for a restful sleep experience.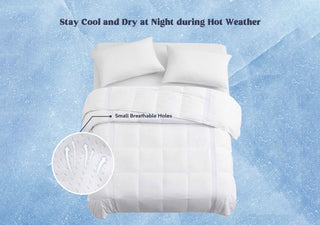 Cooling Performance
The outer cover material of the box-stitch design comforter is designed with two strips of mesh fabric to enhance air circulation and wick moisture away, keeping you cool and dry on a warm night.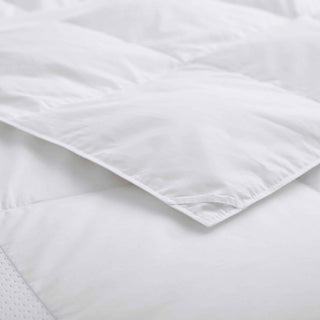 Feather-like Weight
This bedding comforter boasts a lightweight design, weighing about 2 lbs, the perfect weight for summer months. You'll feel as if you're sleeping under a cloud, as this comforter provides a weightless sensation.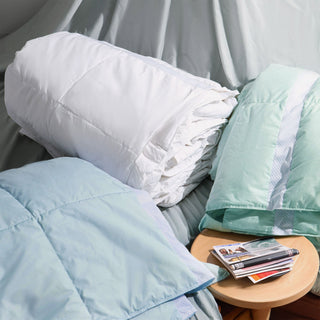 Our Certifications
To ensure that our products meet the highest standards of quality, Puredown adheres to strict regulations and criteria at every stage of the manufacturing process.This down comforter is certified with Responsible Down Standard, STANDARD 100 by OEKO-TEX® and Bluesign.

Nice!
Recently vacationed and stayed in hotels. It seems that hotels are using lightweight down comforters now. I was impressed, and when I returned home, I found this one online. The plus for me was that it was designed for hot sleepers. I am really enjoying it. I still feel somewhat hot, but not as much with this comforter. I am glad I bought it. It does help.
Ultra light weight comforter
Best sleep experience for hot sleepers. Then you wake up and easily make the bed with the light weight comforter.
Light weight down comforter
Perfect weight for hot nights.
Under a Cloud
This duvet is exactly what I was looking for. So weightless and light, it's like sleeping under a cloud. Perfect for hot summer nights! And in the morning, with a quick flick of the wrist the bed is made.
Just what I was looking for
I have purchased "light" down comforters before and every time they were too warm to use in the summer months. I decided to try one last time. This comforter has two strips in it. One about at your torso and one down by you feet, they allow some air flow under the comforter so you don't get to hot. We sleep so much better now with this summertime comforter. We love it and are so happy we bought it.