90% Sustainable Goose Down
Why Choose Organic Cotton?
Organic cotton is more than just an ethical choice. When you purchase organic cotton products, you are helping to make the planet a healthier place for everyone.
Healthier for Our Planet
Organic cotton is beneficial to the earth because it is grown without the use of harmful chemicals, genetically modified organisms, and synthetic pesticides and fertilizers. This results in improved soil health, reduced water usage, conservation of biodiversity, and reduced environmental impact.
Healthier for Farmers
Organic cotton farming benefits farmers by reducing their exposure to harmful chemicals, improving their health, providing economic benefits through higher profit margins and access to higher-value markets, promoting environmental sustainability, and contributing
to the social well-being of farmers and their communities.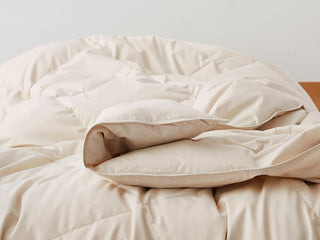 Healthier for Yourself
Organic cotton is free of harmful chemicals, making it gentle on the skin and hypoallergenic. It is also softer, more breathable and more durable than conventional cotton, making it a perfect choice for those who want to improve their sleep health greatly.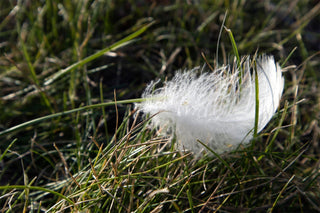 Sustainable Goose Down Filling
A cozy masterpiece filled with 90% recycled goose down certified by the Global Recycling Standard (GRS). This environmentally conscious choice not only provides unparalleled softness, and luxurious warmth but also allows you to embrace a greener, more sustainable dream.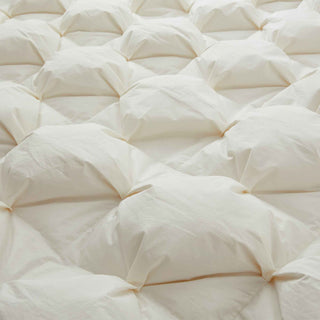 Timeless Elegance with Pinch Pleat Design
The pinch pleat design of our quilt combines elegance with unmatched softness. Meticulously folded and secured fabric creates a fluffy surface. It's like touching a cloud, making your sleep experience both visually appealing and incredibly cozy.
Secret Down Pocket Design
Unlock the magic of our exclusive "Bonus Scene" Down Pocket design, where you can touch and see the real down materials within the comforter. This unique feature adds an element of wonder and transparency to your bedding experience, allowing you to connect with the premium materials that make our comforter exceptional.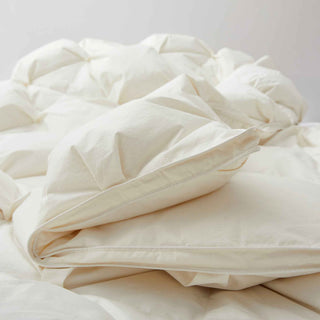 Enhanced Comfort and Consistency
Our duvet incorporates a gusset design for added softness and fluffiness. The non-removable baffle box design ensures even distribution of the filling, maintaining consistent warmth and comfort while minimizing fluffiness and eliminating cold spots. Additionally, eight corner loops make it effortless to attach and secure your duvet cover.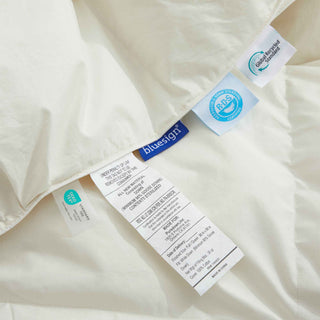 Our Certifications
To ensure that our products meet the highest standards of quality, Puredown adheres to strict regulations and criteria at every stage of the manufacturing process. This organic cotton down comforter is certified with Global Recycle Standard Certified, Responsible Down Standard, STANDARD 100 by OEKO-TEX® and Bluesign.